Got bored with Adobe Photoshop? Or you think Adobe Photoshop is too complicated? Well there's a few photo editing software you can choose to do your photo editing task. It doesn't have to be only Adobe Photoshop... Here's a few photo editing software that I found useful. Plus it's all FREE.
1. Picasa 3
This is a basic tools to edit your photo. Recommended for beginner.
Info :
Picasa is free photo editing software from Google that makes your pictures look great.
Sharing your best photos with friends and family is as easy as pressing a button
2. Paint.NET
If you already an intermediate/professional user of photo editing software you can use this software.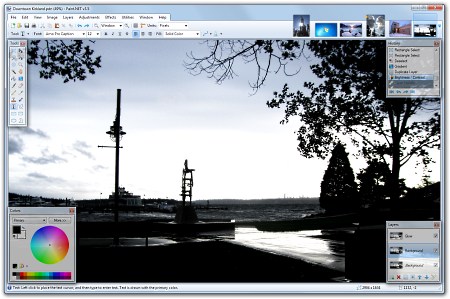 Info :
Paint.NET is free image and photo editing software for
computers
that run Windows. It
features
an intuitive and innovative user interface with support for layers, unlimited undo, special effects, and a wide variety of useful and powerful tools. An active and growing
online community
provides friendly help,
tutorials
, and
plugins
.
It started development as an undergraduate college senior design project mentored by
Microsoft
, and is currently being maintained by some of the alumni that originally worked on it. Originally intended as a free replacement for the
Microsoft Paint
software that comes with Windows, it has grown into a powerful yet simple image and photo editor tool. It has been compared to other digital photo editing software packages such as
Adobe® Photoshop®
, Corel®
Paint Shop Pro®
, Microsoft Photo Editor, and
The GIMP
.
To download, click

HERE

.
3. GIMP
This is an Open Source base software. However, it also have a windows version of it.

Info
:
GIMP is an acronym for GNU Image Manipulation Program. It is a freely distributed program for such tasks as photo retouching, image composition and image authoring.
It has many capabilities. It can be used as a simple paint program, an expert quality photo retouching program, an online batch processing system, a mass production image renderer, an image format converter, etc.
GIMP is expandable and extensible. It is designed to be augmented with plug-ins and extensions to do just about anything. The advanced scripting interface allows everything from the simplest task to the most complex image manipulation procedures to be easily scripted.
GIMP is written and developed under X11 on
UNIX
platforms. But basically the same code also runs on
MS Windows
and
Mac OS X
.
To download, click

HERE

. For Windows user, please download the GIMP for Windows.
This is three software that I found very useful in photo editing. Hope you'll like it.